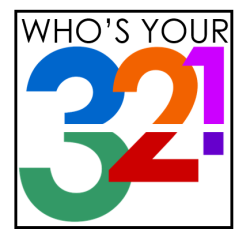 Have you ever taken a moment to consider all the wonderful people God has sovereignly placed in your life? He's given us family members, friends, neighbors, co-workers, classmates, and so many more. Thankfully, many of these individuals are already followers of Christ, but, sadly, many of them aren't.
Could it be that God has put these people in our lives so that we could share with them the wonderfully good news of Jesus Christ? Could it be that God has placed these people in our lives so that we could help fulfill the Great Commission (Matthew 28:18-20)?
With those questions in mind, we're asking you to consider joining with us in a little exercise of your faith. And this is as easy as 3-2-1.
3 -- Think of three (3) people you know, who, insofar as you know, do not have a saving relationship with Christ. Write those three names down in a special place and begin praying for them to come to a saving knowledge of Christ.
2 -- Of those three people, plan to invite two (2) of them to a PHBC church event (for example, Sunday morning worship, Saturday men's breakfast, Women's Mugs and Muffins, Wednesday night Engage youth lesson, etc.). [Note: If you're a member of a different Bible believing, gospel preaching, local church, then invite them to your church!]
1 -- Of those two, pray for and plan for an opportunity to personally share the gospel with one (1) of the three.
Who's your 3-2-1?
Here are some links you can use to help you better learn how to share your faith.
God-Man-Christ-Response Gospel Presentation
Here are 10 helpful Bible passages to keep in mind when sharing the gospel:
Isaiah 53:5-6 - But he was pierced for our transgressions; he was crushed for our iniquities; upon him was the chastisement that brought us peace, and with his wounds we are healed. All we like sheep have gone astray; we have turned—every one—to his own way and the LORD has laid on him the iniquity of us all.
John 3:16-17 - For God so loved the world, that he gave his only Son, that whoever believes in him should not perish but have eternal life. For God did not send his Son into the world to condemn the world, but in order that the world might be saved through him.
Acts 4:12 - And there is salvation in no one else, for there is no other name under heaven given among men by which we must be saved.
Romans 3:23 - For all have sinned and fall short of the glory of God.
Romans 6:23 - For the wages of sin is death, but the free gift of God is eternal life in Christ Jesus our Lord.
Romans 8:1 - There is therefore now no condemnation for those who are in Christ Jesus.
Romans 10:9-10 - Because, if you confess with your mouth that Jesus is Lord and believe in your heart that God raised him from the dead, you will be saved. For with the heart one believes and is justified, and with the mouth one confesses and is saved.
Romans 10:13 - For everyone who calls on the name of the Lord will be saved.
2 Corinthians 5:17 - Therefore, if anyone is in Christ, he is a new creation. The old has passed away; behold, the new has come.
Ephesians 2:8-10 - For by grace you have been saved through faith. And this is not your own doing; it is the gift of God, not a result of works, so that no one may boast. For we are his workmanship, created in Christ Jesus for good works, which God prepared beforehand, that we should walk in them.